Christmas Closure
We will be closed for Christmas from Thursday 23rd December 12pm until Tuesday 4th January 2022, return to work will be Wednesday 5th January 2022. Last date for courier collection from us will be Tuesday 21st December for a pre-Christmas delivery. Click & collect will be available until Thursday 23rd December.
Click & Collect
We offer a free in-store collection facility whereby your goods can be ordered online and picked up at our Kirkmuirhill store. Please select "Click & Collect" at checkout. Our store is open Monday to Friday 8.00am to 4.30pm.
Delivery Schedule
All deliveries will be made Monday to Friday, we do not deliver at weekends.
Courier orders placed by 12pm lunch time will be sent out that day. We will notify you via email of the courier tracking information for your order.
Standard Delivery Pricing
We charge a standard rate for the first 2kg across the whole of the UK. Above this we charge a fixed rate per 25kg (including 2-25kg) based on the volumetric size of the product as per our courier requirements. We charge a rate per 25kg up to 300kg for Mainland UK and up to 100kg for Scottish Highlands. After the first 25kg the rate is slightly lower per 25kg due to parcels going to the same address.

Above these limits we use variable pallet rates (1000kg per pallet) up to a maximum of 10 pallets.
You can check the delivery cost from your basket by using the Calculate link next to the Delivery line.
Standard Delivery
Our standard delivery service is 1-3 working days for courier packages and 2-7 working days for courier pallets covering Mainland UK (A) and the Scottish Highlands (B) as shown on the map.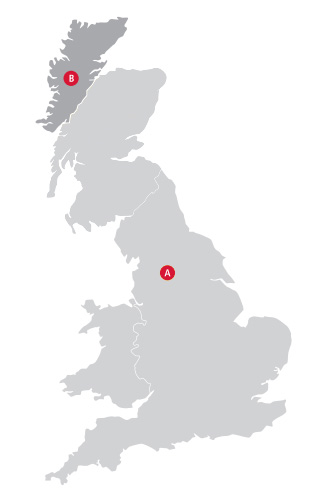 Shipping price depends on order weight and delivery location. Orders via courier pallets are charged per pallet total weight. Our pallet courier has a tail lift and pallet truck so will deliver your pallet to the kirbside.
Our Scottish Highlands coverage includes: IV1-IV11, IV14-IV28, IV40 & IV52-IV54, IV63, KW1-KW3, KW5-KW14 and PH33-PH41.
Mainland UK covers all remaining regions outside of the Scottish Highlands, excluding the Islands and Northern Ireland. We don't deliver to: BT, EX39, HS, IM, IV41-IV49, IV51, IV55, IV56, JE, KA27, KA28, KW15-KW17, TR21-TR25, ZE
Trade Account Delivery
For our trade account customers we offer a reduced cost delivery service using our own lorries covering the region shown on the map (A). This is roughly bounded from Oban along the A85 on the East Coast of Scotland, across to Dundee, down to Marske on the East Coast of England and across the A66 to Workington on the West Coast of England. Between Glasgow and Oban the boundary follows the A82 North, across the A83 then up the A816 back to Oban. Outwith this region our delivery charges are as per our Standard Delivery method.
The full list of covered postcodes are: CA1-CA9, CA14-CA17, DL1-DL5, DL10-DL17, TS1-TS7, TS10, TS11, TS16-TS29, DD1-DD4, DD6, DG1-DG8, DG10-DG16, all FK except FK21, All G except G84, KA1-KA26, KA29, PA1-PA19, PA32, PA33, PA35, PH1, PH2, PH6, PH7. We cover all postcodes in DH, EH, KY, ML, NE, SR and TD.
If you have any questions about your account and the above CTS delivery locations please contact our branch directly.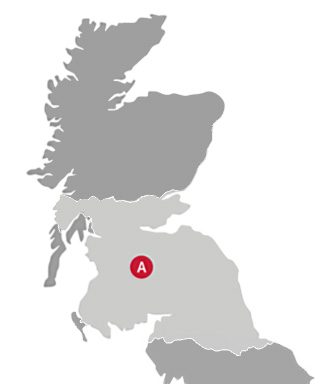 Please note our delivery timeframe for this region is 2-7 working days for pallets to allow us to build up orders for each area to minimise fuel costs.
We can deliver a maximum of 10 pallets per order, above this please call our office on 01555 894151 to arrange an alternative delivery method.